The George Inn has an enviable reputation for good food because we have a great team of accomplished and enthusiastic chefs who enjoy experimenting and working with as much fresh and local food as possible!
Home-made, fresh, good food
Our food is a mix of classic and contemporary British cooking, served without pretence or complication. See our sample main menu here and our sample Sunday menu here. Menus will vary somewhat on the day, so please telephone if you have particular needs or requests.
We make almost everything ourselves, from local ingredients wherever possible. We believe it is important to know from where and how our good food is produced. We try to source everything locally from small-scale producers if we can, and we even include produce from our own garden as well.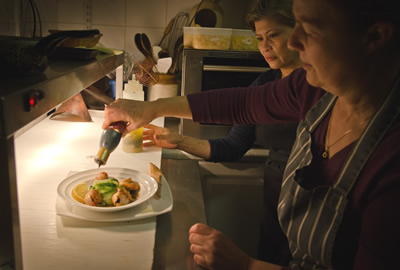 The majority of our meat is produced within a 25 mile radius, including beef from a farm just two miles away. Our game is locally shot or caught too. We hang our pheasants and partridges in the woodshed before preparing them and pick local mushrooms to add some superb flavours to our dishes.
We like to grow our own herbs and forage for ingredients such as wild garlic, nettles, elderflowers, ceps and mushrooms, sloes, blackberries and rowans. We even cut our own wood for the fires too! all these things combine to make our good food superb!
Our menu
Our menu caters for almost everyone. See our sample main menu here.
Our best selling traditional favourites are our short crust pies — steak and ale pie, chicken, sage and mushroom pie, beef and Guinness and horseradish pie, and pork, cider and apple pie to name a few.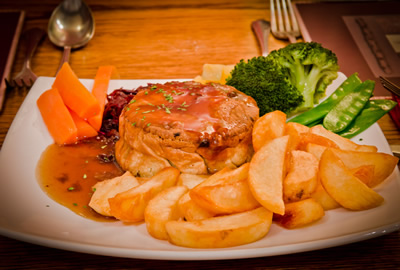 Our fresh Brixham seafood is terrifically popular, including Tor Bay mussels, Cornish scallops, and local hake, turbot, plaice, and sole. We have frequently changing specials which usually include two meats, two fish or seafood and a vegetarian special.
We have a children's menu, a good selection of vegetarian food, and local beef and lamb (sometimes from animals raised right in the village!). We are knowledgeable about food allergies and do not use any MSG, artificial colours, or sweeteners. We can cater for most all dietary needs as we make nearly everything ourselves, so please do not hesitate to ask if you have any questions or special needs.
Sunday lunch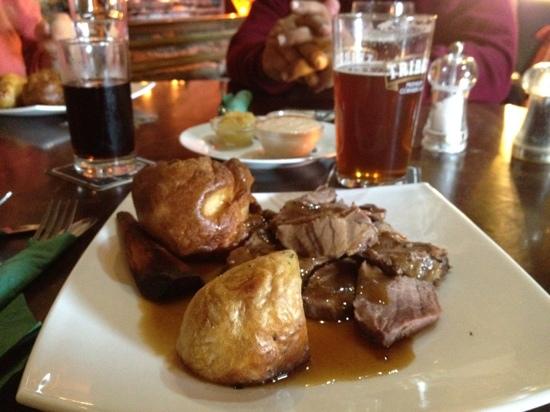 Sunday Roast is very popular. See our Sunday Roast menu here.
Sunday Lunch is a real treat at the George too. We serve local corner-cut topside of beef, local leg of lamb, honey roast pork, chicken, a vegetarian nut roast and fresh fish.
Yorkshire puddings and all the trimmings accompany, and it's rare for anyone to leave the table hungry!
Eat good food in the pub, restaurant or garden!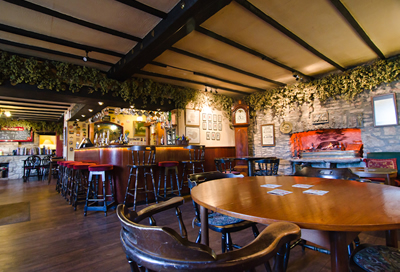 There are plenty of choices for where to eat in the pub.
We have a snug area with seating for 10, our restaurant with seating for up to 30, the old tack room that seats 20 and the main bar which seats another 30.
And in the summer especially, don't forget our lovely beer garden. We've covered the terrace with a retractable awning, have a swing for the children, a lovely flower border and our tables and chairs in the garden can seat another 30 with ease. With so much to offer the only problem is parking nearby!
Advance bookings are appreciated whenever possible. Call us at 01749 342306. We look forward to seeing you soon.