The George Inn is our award-winning 17th century freehouse in the scenic village of Croscombe, Somerset. The pub is directly on the A371 equidistant between the market town of Shepton Mallet and England's smallest city, Wells. There are many delightful walks from the pub and dogs are welcome too.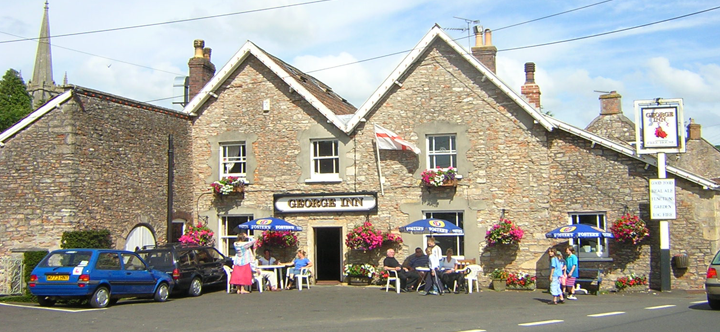 Purchased by us in July 2000, we've enjoyed making many changes to the pub. In the main bar we built a large inglenook fireplace with a real log fire to warm the winter days; and hops, soft lighting, the family's grandfather clock and our comfy chairs add to the ambience of the area.
Main Bar Interior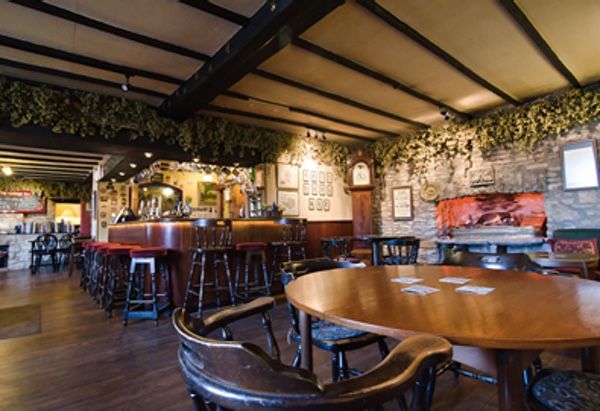 The areas on both sides of the bar have been enlarged to include the former tack room and stables on one side, and old brewery on the other. In the old tack room we've made a combined function and family room, in the old brewery we now have a restaurant and theatre kitchen. We renovated the old stables to make new toilets for men, ladies and the disabled with baby changing facilities. The pub garden is fully wheelchair accessible too.
The cold cellar we built in 2001 ensures all our beers are kept in prime condition. This is especially important for our real ales, including the beer brewed uniquely for us, King George 'the Thirst'. Perhaps that helped us to win the CAMRA Bath branch Rural Pub of the Year Award in 2090/2010, 2011/12, and 2015/2016!
The Pub Garden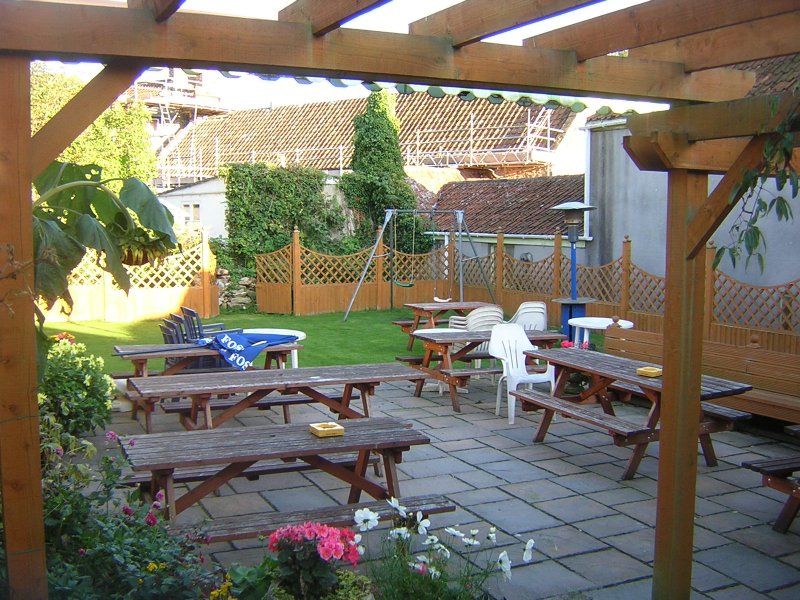 The Pub Garden has been renovated and made into a terrace with an all-weather patio, including a children's area.
The Old Coach House has been converted into a self-contained flat which we now occupy. The Loft in our northern gable has been renovated into an en-suite twin-bedded room for B&B, the loft in the southern gable converted to an additional family en-suite bedroom.
The Old Brewery provides the setting for a comfortable 30 seat restaurant, refurbished in 2017. The theatre kitchen looks into the dining room directly, allowing us to demonstrate our commitment to quality food prepared from the best local fresh ingredients cooked to order.
All our food is home-made, including the puddings and luscious ice creams. We include our own fruit and vegetables and make vegetarian, game and fresh fish specials to complement the regular menu.
Special needs are catered for, and individually tailored menus can always be worked out for functions or special events. Come and sample the lovely food, drink, rooms and atmosphere we provide at The George Inn!